American Board of Orthodontics doctor certification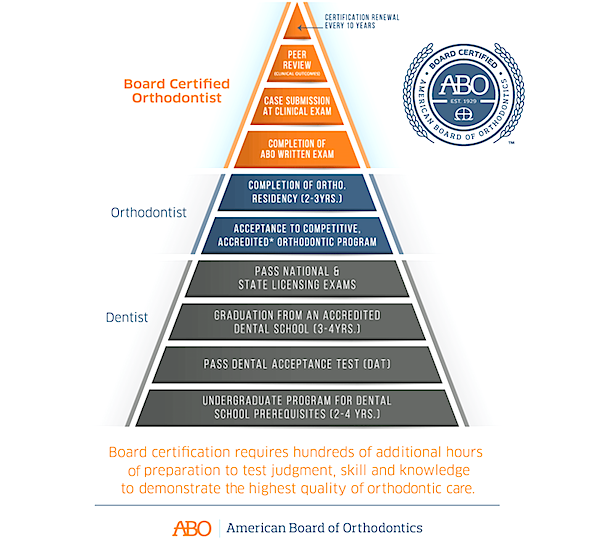 The American Board of Orthodontics (ABO) was founded in 1929. It is the oldest and most prestigious specialty board in dentistry. The ABO's aim is to elevate the standards of the practice of orthodontia, to familiarize the public with its aim and ideals, and to protect the public against irresponsible and unqualified practitioners.
The board upholds four main objectives supported by its mission:
Evaluate the knowledge and clinical skills of graduates of accredited orthodontic programs
Re-evaluate clinical knowledge and skills through administration of recertification exams
Support the development of quality graduate, postgraduate, and continuing education programs in orthodontics
Promote and encourage certification expertise throughout the world
Becoming Board Certified
To become board certified, an orthodontist has to pass a rigorous set of written and clinical examinations, as well as a comprehensive review of his or her credentials. The initial process of becoming board certified can take anywhere from five to ten years. Once certified, the orthodontist must become recertified every ten years to maintain board-certified status.
What does it mean to be board certified?
A board-certified orthodontist, also known as a Diplomate of the American Board of Orthodontics, has been voluntarily examined by his or her peers on the basis of knowledge and clinical skills. Becoming board certified signifies the orthodontist's pursuit of continued proficiency and excellence in orthodontics.
Only about 1 in 3 orthodontists choose to go through the rigorous process of becoming board certified. Currently, Dr. Pickard is the only orthodontist in the Palouse and L-C Valley regions that is board certified.